Company Information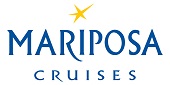 Mariposa Cruises
207 Queen's Quay West, Box 101, Suite 245
Toronto, Ontario M5J 1A7
Website:www.mariposacruises.com
Regional Office Locations & Details
Mariposa Cruises' office and ships are located in the heart of Toronto's Harbourfront at the Queen's Quay Terminal building, intersection of York Street and Queen's Quay West.
Company Description/Details
Mariposa Cruises is the largest hospitality cruise operator in Toronto with six vessels, including the two of the largest ships in Toronto.  Mariposa Cruises is known for its award-winning professional service, excellent food and beverage offerings, and the best fleet of well-maintained vessels in a convenient location. Mariposa offers the full range of cruise products, including Corporate Meetings and Events, Scenic Dining Excursions & Harbour Tours.
Accommodations/Meeting Rooms/Exhibit Space Summary
Standard Room Amenities

Six vessels able to accomodate events from 15 to 575 guests.

Number of Meeting Rooms
6
Recreational Facilities

Mariposa Cruises provides floating event space & ever changing views of Toronto's spectacular skyline.
We had a great experience overall with Mariposa and everyone was a pleasure to work with. We will definitely use Mariposa in the future for any company cruises.
– comScore
It was a pleasure dealing with the team and we look forward to working with you again in the future.
– CIBC
Awesome time, very well organized and the staff on board were amazing, most importantly they were there when we needed them and not when we did not need to be bothered. Boat was a perfect size and the Captain interacted with many of our leaders. We were truly impressed by this experience, and food was outstanding to be able to get food onto the boat, and have it fresh, hot and a lot of flavors was awesome.
– The Westin Harbour Castle
From the Sales Manager Pamela to our Event Coordinator and the entire team, I was impressed at the level of creativity and professionalism! For our corporate dinner cruise, everything was perfect and we had rave reviews about the food, from even our most particular guests. I have to admit, I was a sceptic at first when I found that the food would be cooked off-site, but amazingly, the roast beef was to die for! The ambiance, music, willingness of even our captain to oblige our schedule: all were impeccable. They were even able to arrange our flowers and decorations. I would highly recommend Mariposa to anyone looking for an exquisite view of Toronto, beautiful ambiance, top-notch service and looking to impress their clients with an all-around beautiful experience.
– Timken Canada