Company Information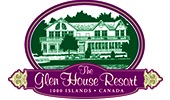 Regional Office Locations & Details
The Glen House resort is located minutes south of the 401 – midway between between Toronto and Montreal and just 90 minutes south of Ottawa
Company Description/Details
Glen House Resort is a quaint 72 room, 4 Star Canada Select facility featuring waterfront rooms, spa facilities, contemporary menus, 18 hole Championship Golf Course, renovated Smuggler's Lounge and updated conference facilities.
When the day's work is done, choose from a host of on-site activities and local attractions. We provide the right mix of business with pleasure for your group to enjoy; on-site boat charters and outdoor bonfires present opportunities for interaction.
Minutes from the 401 and in the heart of the Thousand Islands, we are located midway between Toronto and Montreal, just 90 minutes from Ottawa. Our central location is easily accessible from all points of the compass.
Glen House Resort's staff help in convention planning, utilizing the latest audio/visual equipment, catered breaks and amenities required to complement a productive/enjoyable conference experience.
We encourage you to visit our website at www.smugglersglen.com or phone
1-800-268-4536
Accommodations/Meeting Rooms/Exhibit Space Summary
Number Of Guest Rooms
72
Number Of Suites
5
Standard Room Amenities

Standard rooms are equipped with two double beds, a pull out couch, sitting area, free in-room coffee and coffee maker and fridge.
Upgraded rooms include either views, or river-side location next to the St. Lawrence River, with options of fireplace or Jaccuzzi suites

Tradefloor Exhibit Space
2580 sq. ft.
Number of Restaurants/Bars
3
Number of Meeting Rooms
4
Total Meeting Space
5991 sq. ft.
Largest Meeting Room
2580 sq. ft.
Recreational Facilities

Located on-site: Indoor and Outdoor pools, whirlpool, sauna, cycling, shuffleboard, tennis courts, games room, gym and cardio room, Smuggler's Glen 18 hole championship Golf Course, Smuggler's Lounge, Canoe and Kayaks, Boat Rentals, local fishing.
Located nearby: 1000 Islands Boat Tours, 1000 Islands Playhouse, 1000 Islands Charity Casino, Boldt Castle, Upper Canada Village, Old Fort Henry, Scuba Diving, ATV tours, Gananoque Skydiving, Kouri's Helicopter Tours, 13 Kingston Museums, Boating, Private Charters
"Thank You! so much for your contributions to EuroMAB 2013. The conference was a great success with over 190 participants from at least 27 countries. Participants loved touring the Biosphere and experiencing the warmth and hospitality of our region. The event could not have been possible without the great people like you who helped make it so successful! Many Thanks"
– Frontenac Arch Biosphere
"Dear Glen House Staff, Thank you for the many years of support and hospitality over 25 years! Time sure flies! Words cannot express our gratitude. Also thank you for the time with you as guests at your resort. We are looking forward to hanging out and seeing you in the near future. Much appreciated."
– Doreen Burgraff, Directory – Mary Kay"Thanks so much Jeanine! Ironically I was just about to email you and ask for a ball park figure before our wrap up meeting coming up on Tuesday. So thanks for your efficiency. I will definitely be back to you after next Tuesday – but in the meantime please extend a heartfelt thanks to all your staff and of course our thanks to you for all you do to make our event run smoothly. Have a great weekend-enjoy the warmth and sunshine!"
– Sandy Lanneville, Organizer – Catholic Women's Retreat
"I have been hosting weekend scrapbook retreats twice a year since 2006 at the Glen House Resort.  The staff is exceptionally accommodating and the facility meets or exceeds all our needs."
– Maria Phillips, Independent Consultant – Ahni & Zoe by Creative Memories