Company Information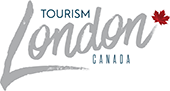 Company Description/Details
DESTINATION LONDON
London. A vibrant compact city centre, lush parklands and the Thames River gently flowing through the centre of town framed by beautiful bike-pathways and parks. It's a striking green-nature contrast to the economic and intellectual powerhouse of London, situated in the prosperous agricultural heartland of southwestern Ontario.
A hidden gem for meeting and event planners, London—known as the Forest City—offers big-city sophistication without the traffic congestion. Blend in historic architecture, thriving businesses in the technology sector, insurance and medical research fields, hip restaurants and a wide variety of event space for a destination that can satisfy any planner's checklist. Ideally situated just two hours from Toronto, it's even closer by air. Fly direct to the London International Airport from Vancouver, Montreal, Calgary, Ottawa, Toronto or take VIA Rail to downtown London.
Discover what makes London an ideal choice for your next business event. Call us today at 416-388-4905 or Visit:  https://www.londontourism.ca/meeting-planners.
"Thank you, Tourism London and the City of London for your tremendous efforts to make the National Conference on Ending Homelessness the success that it was. From the RFP process, through the planning and execution, this was one of our best projects in a quarter century of business. Our client, the Canadian Alliance to End Homelessness, considers this to be the most successful CAEH Conference to date. The attainment of CAEH's goals is in large part attributable to the involvement of the local community, especially those involved with the homeless. Having Tourism London at the table as a partner was also quite valuable. Overall there were more than 1,000 participants in the Conference and by all accounts the London Convention Centre (now renamed to RBC Place London) was and is an excellent facility to host an event of this nature. I look forward to our next opportunity to work together again."
Phil Ecclestone | CAEH Conference Manager and President, Golden Planners Inc.
"On behalf of Tom (President-Elect), myself and the American Ornithological Society, thank you very much for a terrific site visit to your lovely city.  Thank you so much for your warm and welcoming hospitality and for the very thorough review of our best options for a successful AOS meeting in London in 2023."- Kind regards, Melinda
Melinda Pruett-Jones | Executive Director | American Ornithological Society
"London is always on our radar, it's a fun city with lots of things to do, and it's really accessible with the 401 and a downtown train station location. The opportunity to work with Tourism London was just so positive, they were helpful in ways I didn't even realize. The individual attention our group received really told us that Tourism London wanted our event to be successful."
Rozalyn Werner- Arcé | Executive Director | Therapeutic Recreation Ontario