Company Information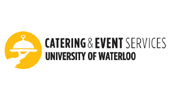 Company Description/Details
Known for being a technology hub with a unique mixture of old and new world, Waterloo Ontario is a vibrant and engaging city perfect for hosting various events and conferences. The University of Waterloo is centrally located and offers a wide range of conference and event spaces, accommodations (available May – August, 1,000 people), and first-rate dining facilities making it the ideal location for your next event. The Catering & Event Services team at the University of Waterloo has served the community for over 25 years, and has a well-earned reputation for exceptional & personalized service. All-inclusive and customizable packages are available to fit the needs of your group, from large sporting events to conferences and special events.
Waterloo is part of the Tri-Cities, referring to the close proximity to Kitchener and Cambridge. Our guests and residence of the University are able to easily take advantage of these three beautiful cities and their many wonderful attractions including our world famous Oktoberfest celebrations, boutique shopping in Uptown Waterloo, discovering the various locations used to portray the fictional Ontario town on the Canadian sitcom 'Dan for Mayor', enjoying a night at the Kitchener Blues Festival or a day at the KW Multicultural festival. Our beautiful and spacious parks are also a draw for visitors: Victoria Park in Kitchener, Waterloo Park in Waterloo and Riverside Park in Cambridge. Just north of our cities is the Historic St. Jacobs Village and Farmers Market where history and charm intertwine for memorable experiences.
Accommodations/Meeting Rooms/Exhibit Space Summary
Number Of Guest Rooms
1000
Number Of Suites
15
Standard Room Amenities

Annually between May and August we offer on campus accommodation.  Summer Accommodations Annually between May and August we offer accommodation here on campus.  Ron Eydt Village has 24 double rooms for single/double occupancy on each floor with two large shared washrooms per floor (1 male and 1 female) along with a common lounge for after-hours networking.  All our rooms have cleaning services, free WiFi and free overnight parking along with 24-hour guest service support.

Number of Restaurants/Bars
2
Number of Meeting Rooms
25
Largest Meeting Room
4,725
Recreational Facilities

We're just minutes from Uptown Waterloo, Downtown Kitchener, St. Jacob's Market and numerous recreational, cultural and shopping experiences.   Come and visit our campus in person and let us help you take care of that special event!
"You and your staff's friendly assistance made things run smoothly, which certainly helped to make this, our 50th Ontario Folk Dance Camp, a memorable and enjoyable weekend."
-Heidi Fiebig, Ontario Folk Dance Camp
"Thank you very much for the wonderful service you give with good humor, a smile and such professionalism. One feels safe, comfortable here and as other visitor have said "homey". You are so helpful and it has been a special pleasure to know you all."
-B. Nolan, Summer Accommodations Guest
"Just a word of praise for all the lovely meals you had for us while here. There was lots of variety and everyone was helpful and pleasant when serving us. It must be difficult to remain calm, cool and collected when serving so many meals."
-Attendee for the 133rd General Assembly with the Presyterian Church in Canada
"I just wanted to personally thank you for all the time, work and effort to help us host Girls Heart Point here at UW. I appreciate all you've done to help our moms and girls feel comfortable, safe and at home! We couldn't pull it off without you."
-Girls Heart Point Angel Team Coordinator